Rajasthan without Jain temples, forts and wildlife sanctuaries
Yes, there is much more to this state than Jain temples and forts. Tejas and I are not quite fond of visiting temples, are no fans of history to roam around old forts trying to make sense of the guide's information and have no patience to wait behind binoculars to see wildlife in action. All these would also mean a boring trip for Ovee. Hence, we skipped Ranthambore, Mt Abu, Bikaner and Pushkar -the otherwise touristy locations in Rajasthan.
However, of the 45-odd forts in Rajasthan, we made an exception for Kumbhalgarh, Chaittorgarh and Amer forts. Read on to find the reason.
Most importantly, we planned our trip such that we would be in Jaisalmer on December 13 and 14 to watch the geminid meteor shower and yes, we did!
1. Star-gazing in Jaisalmer
Our bed for star gazing at Damodra Desert Camp
We are not star gazers and have zero to very minuscule information about the subject. However, we do know that the geminid meteor shower is an annual activity that takes place in first week of December and goes on for two weeks. It is a not-not-be-missed phenomenon that can be seen anywhere in the sky without a telescope or any other fancy equipment.
Go to
http://www.timeanddate.com/astronomy/meteor-shower/geminids.html
to see the 2015 calendar of the geminid meteor shower. Even if you can't make it for the meteor shower, just star gazing is worth it.
Tejas and I saw the meteor shower on two nights -December 13, 2014 and December 14, 2014 for about 2-3 hours each night. We stayed at
http://www.damodra.com/
about 30 km from Jaisalmer. We had made a special request to place a bed in the open next to our tent for star gazing. So, Ovee slept in the tent with the heater and we saw the meteors.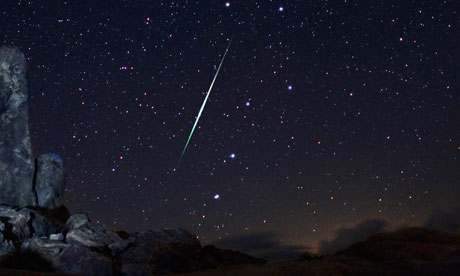 An image of Geminid meteor shower 2014 as published in www.theguardian.com. We saw about 25 such shooting stars in three hours on December 13 and about eight shooting stars in two hours on December 14.
2. Desert safari
The Mrugasagar lake in Bap
Desert safari is not just about camel safari in the dunes. There are numerous artificial lakes in Jaisalmer that retain water for a couple of years after a good monsoon fill. They are the source of water for nearby villages, are clean and give a wonderful view of the country side. Surprisingly, some parts of Jaisalmer have lush green fields and people grow
chana, wheat, mustard
for a living. Most hotels take you to such lakes when you ask them about it.
Jassie oasis in Jaisalmer
on the way to Sam sand dunes

3. Saheliyon ki Bari, Vintage car museum, Udaipur Zoo, Jheel Ginger cafe and a couple of walks around Fatehsagar lake in Udaipur
Ovee chasing a squirrel at Saheliyon ki bari
One of the many showers at Saheliyon ki bari
Saheliyon ki bari
was fun for Ovee...she admired the beauty and played with squirrels, while we were left amazed at how the showers function only on gravity.
The Vintage car museum was a treat for Tejas and me, but Ovee got highly frustrated there. So we took her to a nearby zoo as suggested by our auto-rickshaw driver-cum-guide.
Next, we went to the Jheel Ginger cafe,
a one-of-its-kind cafe in Udaipur, where you can sit on the banks of Lake Pichola and have amazing coffee and snacks. Ovee too enjoyed it here. We just had to be extra careful with her.
Spot Tejas and Ovee at Jheel Ginger Cafe
We stayed at
h

ttp://www.hotelpannavilas.com/
on the banks of Lake Fateh sagar. With the following view of the lake, we walked on the footpath along the lake for more than a few times.

4. Salt water lakes in Bap village, Phalodi district near Jodhpur
Hotel staff and us ready for chai before sunset
Barsingha Villa
is probably the only hotel in Bap that takes you on a salt lake safari. You travel about 5 km away from the hotel with the following view
Salt pans and the sun
Barsingha Villa also offers a visit to
Shreeyade Colony,
a community that engages in pottery for years. The villagers stay in traditional Rajasthani dhanis and it is enlightening to see how they live -for Indians as well as for foreigners. We spent an hour interacting with the kids as the old lady explained how pottery is a part of her life.
The dhani
Women from Shreeyade, a colony of about 25 dhanis in bap village
5. Khimsar Dunes Village
This lake is surrounded by cottages for guests
Khimsar Dunes Village
is owned by Rajasthan's industries minister Gajendra Singh Khimsar. This is one of the costliest places that we have stayed at yet, but it was worth every rupee. This is a village with 18 guest cottages places around an artificial lake with ducks and geese. Sand dunes, pristine lake, peace of mind and good food and satisfaction of having pampered ourselves is what we got when we stayed here.
At night
Pristine
6. Jantar Mantar
A trip to Jaipur is complete even if you visit this one place. Get a guide, ask questions, understand the science and feel amazed! Ovee was happy because she could run around this place, yet we were happy with the guide because he repeated his explanation to us again in case we missed something while running after Ovee.
Jantar Mantar, Jal Mahal and Jaigarh fort
We stayed at
Magpie Villa
, a homestay in Jaipur. It was truly homely with its owner Amita looking after her guests like an elder sister,
7. Kumbhalgarh, Chittorgarh and Amer forts were the only exception to our no-forts rule. And it was for a reason!
The Kumbhalgarh wall
Kumbhalgarh
was an exception because its 38 km wall is the second largest in Asia after great wall of China and can be spotted from the satellite. Also, it is the birthplace of Maharana Pratap.
We stayed at
Royal Kumbhalgarh Villas
, a decent stay with extremely helpful staff. Kumbhalgarh was a treat indeed!
Sunset from Kumbhalgarh
Chittorgarh
was an exception because it is the largest fort in India. We were glad we made that exception because we got to stay inside the fort boundary in one of the villages called Chittorgarh fort village.
The Padmini Haveli
is a homestay with the hosts Sudhir, Parvati, their kids -Shruti and Amitabh and their nephew Jayesh. Jayesh has a masters in history and his guided tour was the best we had of the three forts.
The Padmini palace in Chittorgarh fort
The Padmini Haveli Guesthome
in Chittorgarh
The famous shish mahal in Amer made of Belgium glass
imported from Europe in 15th century
Amer
fort in Jaipur was an exception because we really wanted to see the tunnel that connects Amer and Jaigarh forts. However, when we reached there, we were told that renovation was underway and it was closed for public. This is about five km tunnel that connects the two forts, One has to walk for about a kilometer in this tunnel, after which it widens. Rajasthan government had introduced golf carts for tourists in this patch to go to Jaigarh. We were truly disappointed to know that it was closed. Nevertheless, we did enjoy our guided tour of the fort.
Disclaimer: Yes, this was an expensive trip. But for Tejas and me, travelling is our 'real' estate.
Visit

TripAdvisor

to read detailed reviews of our hotels and homestays
.